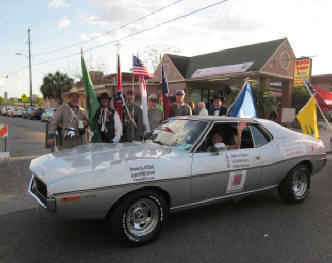 Rough Rider's Ybor City
St. Patrick's Day Parade

The Captain J. J. Dickison "Gray Ghost" is an *American Motors 1971 Javelin SST model powered by a 304 cid v8 engine. Its original owner was James W. Walters who meticulously maintained and garaged the Javelin since it was new. Capt. Phil Walters, the son of it's original owner, is the current owner & caretaker having acquired the car after his father's death in 2007.

Capt. Walters nicknamed the Javelin the "Gray Ghost" in honor of Capt. J. J. Dickson, a hero in defense of Florida home-front during the War Between the States. Capt. Walters understands the importance of honoring all American Veterans and when he outfitted the "Gray Ghost" he saw to it that she paid tribute not only to Confederate Veterans but ALL veterans as well.

The "Gray Ghost" is a community good will ambassador of the Judah P. Benjamin Camp of the Sons of Confederate Veterans and is commonly seen at parades, car shows or occasionally cruising Ybor City's 7th Avenue on weekends.
Factory equipment on this American made sports coupe includes options such as courtesy lighting group, bucket seats, console shifter, Shift Command automatic transmission, power steering and brakes (4 wheel drum brakes), remote side mirror, Luggage rack, AM/FM radio, simulated T-top and upgraded wheel covers. It's non factory additions include AC, Pioneer Super Tuner stereo tape deck, Cragar 14" Chrome wheels with Firestone 215/70 raised white letter tires, a HEI distributor and an air horn set that blasts out "DIXIE" to announce Captain Dickison's arrival and scatter Yankees as he did during his wartime service..
Available for special appearances and parades upon request.
Also visit:
http://en.wikipedia.org/wiki/AMC_Javelin
Alabama Highway Patrol:
http://www.javelinamx.com/javhome/copcar/alabama.htm
Javelin Trans Am History:
http://www.tajavelin.com/history.html
*American Motors also made the Ambassador, the Pacer, the Hornet, the Gremlin and the REBEL machine)